---
---
Ripped from the Headlines Email

The Agony Column for March 25 28, 2002
Note: Occasionally someone other than myself reads this column.
In this case, it was Ramsey Campbell, and he emailed me a brief update, er correction on my column of March 25, 2002. So I'm un-revising history. Eventually, I'll hope to have a lengthier conversation with Mr. Campbell.
Not every book I read is neatly fitted into a potential column. Sometimes I just read what is out there in the stacks or off the shelves of the local independent bookstore, something that has an immediate appeal to me. As it happens, sometimes those books come back to haunt me. And then they end up in a column.

Emmanuel Carrere's 'The Adversary' lives up to its billing as a "tale of monstrous deception". It's a cut above the usual kill-and-tell true crime world of instant-paperbacks.
A book that certainly has the potential to haunt any reader, even without coming back, is Emmanuel Carrere's 'The Adversary'. The book is based on a crime that was a national sensation in France, the kind of headline screaming frenzy that we now see around dog maulings and child murders. But for all the importance that we attach to our own crimes, they don't seem to easily carry beyond national borders. So in the USA, we heard nothing of this bit of psychotic deception and murder in France from 1993 until Carrere's book came out as a translated hardcover late last year. The story is familiar -- a man murders his family. It's a terrible crime that hardly bears mention.
But back in 1994, in 'The Long Lost', Ramsey Campbell took the first searching steps toward writing fiction that was too scary for me to read when he wrote his own fictional spin on these events. I can't be certain that the events covered in 'The Adversary' inspired the very similar events in 'The Long Lost', but the dates map perfectly.
Hold it there, Kleffel. Not quite so perfectly as you wished to imagine. Thanks to Mr. Campbell, we can now tell the TRUE, ACTUAL story.
'The Long Lost', one of Campbell's last fully supernatural novels of terror came out in 1994. The spectacular case of Jean-Claude Romand came to light in 1993. Apparently crimes of this nature can make it across the English Channel, but not across the Atlantic, at least, not without the help of a hardcover book.
Mr. Campbell, ever alert, wrote to correct my fantastic, supernatural chain of events. In fact the book had nothing whatsoever to do with Romand's woeful tale.
Ramsey Campbell writes:
Hi there! I very much appreciated your column that touched on my novel. I should explain that it was completed in late 1992 and first published (in Britain) on 19 August 1993. In the revised edition of his THE LITERATURE OF TERROR, the academic David Punter dismisses the novel as of interest only to"horror fans" and of little to them.
(So, the question rapidly becomes -- who is this Punter chap, and how could he dismiss this novel? It's certainly one of my favorites. To my mind, especially given the train of recent events and the increased media coverage we're seeing of family oriented murder/suicides, Campbell was in the pocket when he wrote about this and is more so now. But I do realize that I have somewhat peculiar tastes.
Still the casual dismissal of this novel is par for the course when it comes to the academic coverage of horror. Not that I've read a great deal of academic coverage, mind you. I'd actually prefer to read the original material, or pointers to new original material, such as that I found on Mark Chadbourn's 'The Alien Online' web site that led to the purchase of 'Dead Ground', a new Lovecraftian novel from Big Engine books.)
***We now return you to your regularly scheduled commentary***

Ramsey Campbell's 'The Long Lost' has some of the most excruciatingly terrorizing passages of prose I've ever made myself read. Parts of it presaged his move to novels of psychotic disorder as opposed to supernatural menace.
'The Long Lost' is the tale of a 'sin-eater' and a sinister cook whose portions lead to Very Bad Things. In one segment, Campbell gets into the mind of a depressed man who has decided to kill himself and his family. It is without doubt one of the most memorable bits of terror that I've ever read. Campbell cranks up the tension by contrasting a melancholy nostalgia for better times now past with the imminent horror of what the father plans to do. The father calls home and takes his wife and children to one last trip to the amusement park. Campbell is so tightly wound into his viewpoint's brain, he manages to do this without crossing over into bathos. For next batch of pages, the reader is in for a terrorizing portrait of a family's love multiplied by a father's despair. It's a bravura performance, and for this reader, was the beginning of the end of my Ramsey Campbell days. Oh, I'll still read his books, and I'm particularly looking forward to his newest release from PS Publishing, a return to supernatural fiction. But the relish is gone, that's for sure. It's been replaced by a very leery bit of caution.
There are some things that will frighten even me away. I'm a father, and I find reading of other fathers' descents into depression and madness more than a little uncomfortable. Yes, all parents are subject to doubts; all families involve as much hard work and effort as they reap love and joy. A great writer, like Campbell can effortlessly cross the line from typical self-doubt into psychotic madness. The descent into madness and actions that cannot be undone is what undoes me as a reader. Doubts about family life are not unknown in the books I read. In 'A Big Boy Did It and Ran Away', Christopher Brookmyre does an excellent job of portraying the doubts and terrors and depressions of a father who sometimes thinks he is going mad without ever actually having the father go mad.

One of the major themes of Chistopher Brookmyre's 'A Big Boy Did It and Ran Away' is how new parenthood can turn reasonable human beings into borderline psychotics. However, Brookmyre keeps the parent in this novel on the right side of psychotic.
Campbell on the other hand, erases that line and eases the unwary reader into a place that frankly, not many people want to experience. He does so with consummate skill. He's a fantastic stylist. He's a scary guy. If you're going to write about this sort of stuff and expect people to read it, you have to be more than just a competent writer. Campbell's treatments of these sorts of subject are an ongoing demonstration of his incredible talent. If you ever feel a need to subject yourself to discomfort, then you've made the right decision to go with Ramsey Campbell. In 'The Long Lost' the supernatural aspect of the book makes this a bit more palatable wrapping the too real in the gauze of the unreal so that reader can keep things in soft focus even though you can see every single awful detail.
Telling the true story of the crime, Carrere actually has an easier job. In the first place, the details of this case are so bizarre and extreme that you'd think it was an episode of a particularly lurid television show. (It will come to that, be assured.) Jean-Claude Romand missed a test in his quest to be a doctor. Unsure of himself, he decided to lie to his parents and friends, telling them he had not only taken, but had passed the test. From that point forward, the lies began to accumulate, until Jean-Claude ended up claiming that he worked for the World Health Organization and had an office in the UN building, when in fact he had no job, and spent his days parked at roadside rest stops reading. It's a frightening thought, that level of deception, and Carrere takes the personal approach in his effort on true crime. The book is split between Romand's hideous story and Carrere's equally squalid attempt to get close to Romand. Romand managed to maintain the pretense of employment through an elaborate combination of deception, fake phone answering machines, cell phones, and by bilking his parents and in-laws out of their life's savings, which he spent on his family's lavish lifestyle and eventually on his mistress. Because of his connection to the UN he averred, he was in an ideal position to advise his parents and in-laws on how to invest their money. When they started to ask for some of the return he assured them they were getting, the façade began to crumble. Then the murders began.

The US Trade paperback edition of 'The Adversary' must have caught some TV producer's eye. But by changing the names and altering the facts, they evade that pesky payment to the author who does all the work, don't they? And at that point isn't it all just "public record"?
What makes Carrere's work a cut above the usual kill-and-tell true crime books is that he spends a fair amount of time considering his own place in the puzzle as one who wants to report on this horrific crime. He is more successful analyzing his own responses to Romand than Romand himself. Romand is a liar through and through. He is so withdrawn into his own world that he cannot even admit that the world he actually lived in existed. He is remorseless and distant.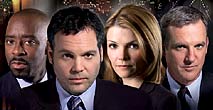 As usual, a cast of runway models is asked to solve the sordid crimes we only want to hear so much about on NBC's 'Flawed and Sordid'.
However, even Carrere cannot foresee the endgame of all this coverage. Ramsey Campbell picked up the vibe early, before the events actually happened. Fiction writers do that sometimes, the best ones, at least. The events took place in 1994; Ramsey Campbell got the vibe in 1994; Carrere's book was published in 2000 in France; and it appeared in a US translation in mid-2001. I saw it in Mark. V. Ziesing's catalog.
Who else saw it, somewhere, anywhere? The producers of America's premiere "ripped from the headlines" television show, "Flawed and Sordid: Criminal Intent". Now, my reading schedule doesn't leave a lot of time for television, but I have a harder time kicking the addiction than I'd prefer to admit. So, at 9 PM on Sunday night, when the eyelids are dragging down, it's a 50-50 chance whether I'll be able to stay awake for an entire episode or any given fraction. Fortunately, Vince D'Onofrio always enlivens the proceedings, and as I watched the episode that played out on March 13, 2002, a familiar story began to emerge. Here's what NBC's website has to say about it: "PHANTOM 03/17/02 EX-CONVICT'S MURDER PUTS DETECTIVES ON TRAIL OF U.N. WANNABE -- When a recently paroled bank robber is slain, Detectives Goren (Vincent D'Onofrio) and Eames (Kathryn Erbe) check out the victim's sister (guest star Cara Buono), a social-climbing wannabe with a romantic connection to a man (guest star Michael Emerson) who is living a double life as a bogus United Nations economist. But as the cops close in, Goren learns of the man's desperate need to gain the approval of his children -- and he races to prevent even more murders. Jamey Sheridan and Courtney B. Vance also star. TV-14"
Well that sums it up nicely, and the episode was well played by all involved. Of course, the names were changed to protect the innocent, and the story was changed to protect the writers from having to give any due to their obvious source material, Emmanuel Carrere's book. Also changed was the ending of the story, with happiness and light pretty much all around -- kids saved, parents saved, etc. Still, too much time was spent on figuring out what was going on, and not enough on the central enigma that was Jean-Claude Romand, or whatever his analogue on the show was named. Clearly the most fascinating part of the story is the central character. But only Campbell, in horror fiction, ever even dares to get into the mind of this type of man. Brookmyre gives a picture perfect view of the new-parent's near psychotic state, but doesn't go over the line. (He has other fish to fry -- rock band lead vocalists are psychotic enough in this novel). In non-fiction(what some would call "fact"), Carrere cannot tweeze the man of his private world. The folks at Flawed & Sordid clearly didn't have the time to do so. There's only so much angst you can pack in between commercials for cologne.
This is why fiction is so important, so vital to our understanding of ourselves. Fictionally, Campbell can take you all the way into the mind of madman, and it's a sorry, scary trip to be sure. Fictionally, Brookmyre can take you into the mind of a man who is not mad, but is sane enough to question his own sanity as a parent with results that are both humorous and a bit disturbing. Carrere can show us the outside of the man, and his own self doubt as he approaches the man and his crimes, trying to get inside. But in the end, all it takes is 42 minutes of network TV to sum it up and serve it up, devoid of understanding.
Thanks,
Rick Kleffel