---
---
The Reading Vacation, Part 2
The Agony Column for January 17, 2003
Commentary by Rick Kleffel
Though I've set the alarm, I wake up well before it goes off, at 4.30 AM. This is my typical waking time. It's Saturday morning, January 11, 2003, and I'm going to make a quick run from San Francisco to Santa Cruz, to pick up Claire (my wife) so that she can join me on the reading vacation. Showered, dressed, I'm out the door and on the road at 5.12 AM. It's dark, cloudy, but not raining. The streets around the hotel are wonderfully empty and easy to navigate. I make it on to the freeway with a minimum of fuss. Having attempted to learn from my mistakes, I've got a list of things I want to pick up, first and foremost longer length DAT tapes so I can record Ramsey's Saturday reading. Driving a tad on the fast side -- but not too fast, as I can't afford a ticket -- I make it home in record time, mostly because there's no traffic at this time in the morning. At home, Claire is ready to roll. I sweep through the house in a mad frenzy, get the tapes and we're back on the road by 7.00 or so. By now it is entirely light -- well as light as it's going to get when it's this cloudy. We get back to the hotel at my target time -- 8.30 AM, park the car, and head up to the room. Housecleaning comes and starts to work, so we head out for breakfast.
Cold, early, cloudy -- apparently perfect weather for breakfast in the Chinese restaurant next door. For less than the cost of one breakfast back home, we get two fine meals and a chance to talk of the travails of the week. The city starts to wake up around us, the streets fill and upon our return, the hotel stirs. Back in the room, Claire naps while I finish writing out questions for Poppy and Simon. I'm a bit worried that she's going to be rather bored and annoyed. After all, I've carted her up here at ungodly in the morning, mad driving frenzy, weird breakfast vibe (great food, great price, but still -- a Chinese restaurant -- the brain reels a bit at the setting) -- and now she's about to be booted out while I talk to Ramsey Campbell, then Simon Clarke. But she says she's OK with this, as it gives her a chance to take a walk in Chinatown.
| | | |
| --- | --- | --- |
| | | |
| Ramsey Campbell must have been having a bad tentacle day whn this phtoto was taken. The appendages were muchmore restrained at Spookycon. | Campbell's newsest book is 'Ramsey Campbell Probably', collecting lots of non-fiction. With the PS Publishing Liimited, you'll get portraits like the one to the left. | Campbell's newest PS Publishing novel is 'The Darkest Part of the Woods', a welcome return to supernatural horror. |
I take her down for her walk, and introduce her to Ramsey in the lobby. Then, Ramsey and I head up to talk. And talk. And talk. Once I start the recorder rolling, it becomes apparent that Ramsey Campbell is every bit as charming and interesting as you might suspect. Nearly forty years as a professional writer will do that. In fact, though the typical length of a Fine Print Interview is 25-28 minutes, I'm only halfway through the interview when I hit that time limit. Ramsey's stories are so captivating that I simply break the interview into two pieces and start a new tape with the presumption that my intelligent producers at KUSP will want to air all this fascinating talk. If not, then the readers of the website will surely want to give it a listen. He talks about his early career, his work with J. K. Potter, Santa Cruz-based Scream/Press and about PS Publishing. He has two recent releases out from them, 'Ramsey Campbell Probably' and 'The Darkest Part of the Wood', the title of which I misspoke in an intro. One must begin preparing for a convention long in advance, which, alas, I hadn't done as well as I'd have hoped.
When we finally wrap up, we continue talking, then I rather rapidly head downstairs to find Claire, reading 'The Apocalypse Door' ("You like Buffy the Vampire Slayer?" the inner blurb reads [she does], "You want to be her?" [Don't think she's too keen on that.] "Then 'The Apocalypse Door' is for you." She's still reading it...)
I chat with Claire while I wait for Simon Clark, who is on the phone, to finish. She's informed me that I've managed to miss the entire Chinatown experience, which is precisely one street over. I'm still catching up from the 200 miles of driving before 8.30 AM experience and the Ramsey Campbell interview experience to even begin to suss the Chinatown experience. But she's happy -- so I'm happy.
| | |
| --- | --- |
| | |
| Since I bought this book from Mark Ziesing, he has tried to sell me every bloody title he can find. | Simon Clark is a fascinating, soft-spoken man from Yorkshire. Look for his interview to be posted here soon. |
I'm also a bit nervous about interviewing Simon Clark. He was a surprise addition tot he convention, and a very appropriate one. His bloody, action-oriented horror has entertained me for years, so I'm well prepared to interview him. However, he's a big guy. I mean like intimidating-bouncer big. But when we sit down to talk, it turns out that he's a soft-spoken family man from Yorkshire, intelligent and very interesting. He has a lot to say about writing horror and science fiction as well. He talked about 'The Fall', 'Night of the Triffids' and his unusual take on vampires in 'Vampyrrhic'. It's all fascinating stuff and we round out the interview within perfect Fine Print parameters. By now, it's almost noon, and I once again ride the express elevator downstairs to meet Claire, drop off the writer, and get ready for another day of Spookycon.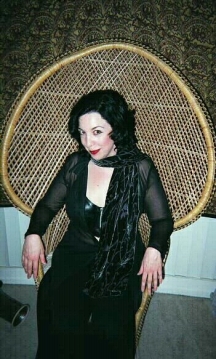 Maria Alexander performed a fascinating and powerful set of poetry and song at Spookycon.
Once of the really nice things about a smallish convention is that you do get to talk to everybody in a no-stress environment. Claire is a bit tired and wants a nap before attending the Ramsey Campbell reading at 4. So I head downstairs and talk to David Schow about an interview for CD (I will get back to you, David). Then it's over to the CCC for a reading by poet Maria Alexander, a writer new to me, and Christa Faust, whose 'Control Freak' is on my shelf. Maria is up first, a tall striking looking woman dressed in black leather. She has fantastic delivery, and though I might not have read her poetry had I not seen her perform it, having seen her transforms my impression of the writer. This is why one goes to conventions. When you see a writer perform in person the words acquire a voice and a face. For a poet, this turns out to be a major advantage, especially if the poet is as powerfully voices a performer as was Maria.
As I mentioned above, part of Spookycon was the learning experience portion, and what I was learning was that I wanted to record the writers as they read. Maria's performances would have made wonderful downloads, had she given me permission to use them and had I been prepared to record them. And in my 'searching for a good sound byte mode' as an occasional electronic musician, there were sound bytes aplenty to be had during her performance. Next time, the DAT goes where I go, I told myself. This was confirmed when she sang -- excellently -- her final piece as a soft of Irish jig. Powerful, well done, entertaining, unusual. What more could you ask?
| | |
| --- | --- |
| | |
| Christa Faust with Ramsey Campbell from her website. | Christa Faust's novel of detection and seduction. |
Next up was Christa Faust. Her short story was another excellent match of audio voice and narrative voice. She had that bored, sat-in-a-bar-too-many-times schtick down cold and hard. Her story -- again -- was something that I might not have read had I been perusing a book of short stories. But to hear her tell it was enough to make me find 'Control Freak' the second I got home. She delivered one hell of a good time.
Next up was 'Masters of Horror', a movie I've seen about 10,000 times with my kids on IFC. That gave me some time whip through a revision of the Poppy Z. Brite questions, confirm the interview time and run through the dealer's room to see if any of the books had changed. The dealers must have thought I was a hopeless compulsive case, they'd have been right.
| | |
| --- | --- |
| | |
| Poppy Z. Brite's day-glo rock novel. | Geoff Cooper and friends in a collection from Delerium Press. |
Poppy came on at 3, paired with Geoff Cooper, who was billed as the "up and coming writer" for the convention. Poppy delivered an hilarious tale that had no spooky or horrific content whatsoever. But her humorous and character-driven tale was a mesmerizing glimpse at what a good writer can do -- write well. She also had a great delivery. The audience was laughing through much of her story, when they weren't simply riveted by her words. She's working a different world in her writing, but her intelligence and clarity remain the same. She also has a hell of a presence -- unpretentious, but powerful. As I was to learn in the interview....
Geoff Cooper is yet another writer whose powerful audio voice carried a peculiar tale to a new level. His story of a sort of triangle of friends was again not necessarily to my immediate taste, but once again, he picked well, as it was a great piece of writing that he was able to read with authority. I'll be looking for his novels, and I'm wondering why some of these folks don't pursue careers as stand-up comedians. Geoff Cooper definitely has potential in just that field. But then, in his fiction, he's doing that and more. It is what it is, and it's worth seeking out.
So, it's just about 4 PM. I dash upstairs and realize that I've booked the Poppy interview and the Ramsey reading simultaneously, and my two-places at once skills are lacking. Claire has awakened, refreshed and ready to hear Ramsey. She and I head down to the con, where she takes a seat as I try to set up the DAT. But it soon becomes clear that Ramsey won't finish before I need to get Poppy's interview recorded. So I have to: 1) leave Claire behind alone hearing Ramsey read, 2) Disconnect the DAT from the stage audio, 3) Run upstairs and get the audio set up for Poppy's interview. I can't imagine that Claire will be happy about all this activity, and I feel like something along the lines of a twit bailing on Ramsey's reading.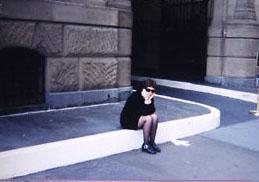 Poppy's latest photo from her website.
The interview with Poppy is a bit on the difficult side. My questions are for the most part inapplicable, and I'm forced to regroup on the fly. Usually -- well, the last couple of times, especially in the studio -- I'm really prepared, having just finished the author's latest book, immersed myself in the author's work, and ready to roll with the punches. The interview with Poppy is a little on the raw side -- she's not writing horror any more, and not much interested in horror. She'd told me this, and I'd tried to adjust, but had not done so as much as I needed to. I'd have been one hell of a lot better prepared had I read 'Plastic Jesus' and 'The Value of X', her two latest. And from her reading, I'm sure I'd like them both. But she's also a consummate professional, intelligent and interesting no matter what she's doing. That's why she has and will continue to be able to exist outside the horror ghetto. And the interview? Sometimes those things for which you're least prepared still turn out to be fascinating. I mean, what's more entertaining -- watching someone drive to the grocery store, or watching them crash the goddamn car?
Oh, and it would also have been nice had I managed to figure out the stupid digital camera before the con. Well, I'll be better prepared next time. I hope.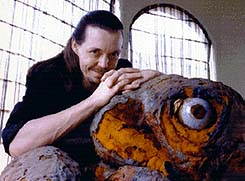 David J. Schow and one of my favorite monsters from 'The Outer Limits'. He should definitely have his own talk show.
Poppy and I finished before the pairing of Ramsey and Schow, and when I came back down to join Claire, she was having a blast watching a film that Schow had been involved in. This had to be one of the goofiest things I'd ever seen, a black and white send-up of all those 1950's horror-sci-fi films that was totally hilarious. Bubble helmets, beautiful girls who shed their spacesuits to reveal the Bikini Within, great CDEs (Cheesy Digital Effects). I really liked this, and what's more, Claire really enjoyed both Schow's presentation and Ramsey's story. I was frankly prepared for her to be put off by both, but she'd twigged to the same realization that I had. We're both readers, and we both realized that conventions are indeed the perfect vacation for readers. Later that evening, we went out to dinner at a fin Italian restaurant, since we couldn't find the Ethiopian restaurant that Ramsey had suggested. It was one of the best dinners we'd had out in a long time. The restaurant was La Gondola. The waiter was funny and entertaining but not annoying, the food was fantastic, and the price was moderate.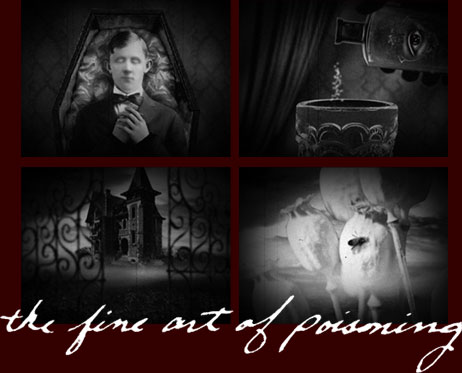 Jill Tracy and Bill Domonkos joined to create this unreal montage of peculiar imagery.
The wind-down was a bit anti-climactic. After dinner, I went and saw a wonderful, phantasmagoric short film -- really a non-rock video for a singer named Jill Tracy by filmmaker Bill Domonkos -- called 'The Fine Art of Poisoning'. I was actually hoping for an adaptation of Ruth Rendell's 'Thornapple', about a 12-year old boy who discovers the joys of poisoning. What I got was a beautiful montage of stylized imagery a la J. K. Potter, but more gothic, more self-consciously beautiful. Nice stuff, as was the music.
The Zombie Beauty Pageant was exactly that. To the sound of a Cramps-style rock band, beauties made up to look rather dead competed. I was fairly bushed and went back to doze, read, and enjoy the view from the room with Claire. In the morning, I tried fruitlessly to get coffee, but the Latte Express was apparently closed on Sundays. When I went down to check out, I saw Ramsey preparing to leave and I bid him farewell, and Darren and Christa as well. Darren told me that he'd like to do two conventions per year, the winter one focusing on writing and literature, and one in the summer focusing on film. I believe that he'll succeed, even though he deserves to and those who deserve success so rarely acquire it. He did precisely what one needs to to make a convention successful for the attendees. He got great talent and a great location. He made his convention a perfect introduction for Claire and I to the Reading Vacation. Thanks Darren.
Thanks,
Rick Kleffel